Bondster (show platform) is one of the leading Czech FinTech companies, which is young, but already boasts several thousand investors. Bondster is a platform designed for investing in P2P loans.
Bondster does not work on exactly the same principle as Zonky, but with its investment system, it is closer to Mintos (Mintos reviews and experiences), because it does not offer loans directly, but mediates investments with other companies.
When registering, use the promo code "04347" and get an extra 1% of each investment you make in the first 90 days.
How does Bondster work?
Bondster works on the principle that it uses loans from several non-banking institutions and then advertises them on its platform for investment. Each loan is therefore issued and offered to investors for a "bid".
All these loans are already active. The debtor has his money and the company that issued the loan on Bondster has already paid it, as can be seen from the following graphic.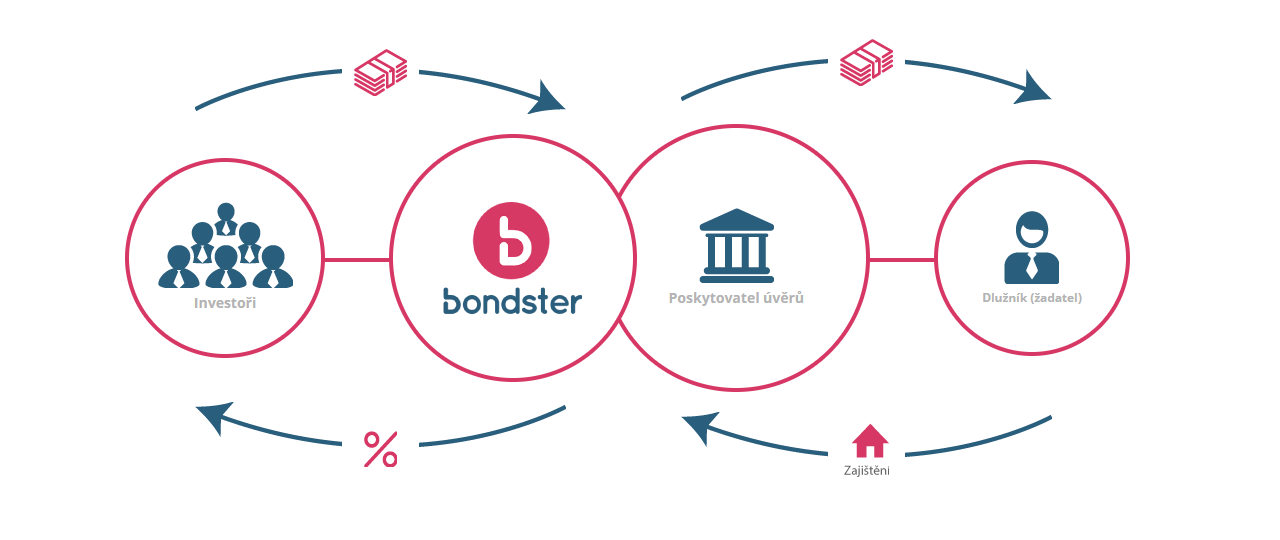 In short, the company resells its share of the loan (participation) to you, but of course, it still appears in it.
You can also learn more from this video:
Bondster Advantages
Yield return around 11% (CZK) and 13% (EUR)
Investing in CZK and EUR
Regulated by the CNB
Clear platform
Low minimum investment (CZK 100)
Short minimum investment time
Czech descriptions of all loan attributes (completely in Czech)
A detailed description of the investment (loan) and the borrower
Auto invest
Option Redemption Guarantee and Liquidity Guarantee (especially for EUR loans)
Possibility to withdraw from the investment under certain conditions (and sometimes free)
Bondster Disadvantages
Higher fee (1% per year of the invested amount)
Impossibility of large portfolio diversification
More complex settings of Auto invest (many parameters – which can be an advantage)
Get informed about news not only from the world of FinTech and investing on Facebook!
List of used of terms
Buyback guarantee
If the loan is not repaid for more than the specified number of days, it is automatically redeemed by the loan provider (the number of days is written in the loan information).
Liquidity guarantee
A guarantee that the investor can withdraw from the investment at any time and his remaining share will be released immediately (usually for a certain percentage of the remaining amount).
Redemption
You can ask the provider to redeem your remaining principal on pre-agreed terms. In the case of the Liquidity Guarantee, it is immediate. In other cases, you can withdraw after a certain time (all conditions are written with the loan).
Autoinvest (Auto invest)
An automation that automatically invests in loans based on certain rules (amount of investment, length, provider, …). This saves you a lot of time.
Evaluation and my experience
Bondster is interesting mainly for a certain diversification of the portfolio (through the use of multiple platforms for P2P loans). Although the platform declares a return of around 10%, I got a much higher return (currently CZK around 12.5% and EUR around 13.5%).
With the number of loans listed on the market, it's getting better and better now, and thanks to Autoinvest. Fortunately, you don't have to spend time managing loans, you just let it work for you.
Recently, Bondster has quite often published other lenders from whom you can buy these loans. This is a great change from the point of view of diversification (previously there were only 4 providers to choose from).
Although the platform is very clear, each loan is under completely different conditions, so if you invest manually, you have to be very careful. In the case of using Autoinvest, it is much easier to learn.
I consider the relatively low minimum investment periods (0-12 months) and the very transparent exposure of investments to be an indisputable advantage. Many other similar platforms could be inspired here.
Although warranties always sound very lucrative, it is necessary to pause for them and say that there are scenarios where even warranties will not help us. This is usually the case when the provider gets into trouble. I have not encountered it yet, but it is necessary to keep this fact in mind!
To sum it up … The platform is an ideal solution for beginning investors who want to try to invest on a simple platform and at the same time use rather "more secure" guaranteed loans. However, it will not be despised even by a more experienced investor who does not want to spend too much time managing, but wants to easily diversify his portfolio.
Bondster promo code +1% in the first 90 days
When registering, use the promo code "04347" and get an extra 1% of each investment you make in the first 90 days.
More articles about P2P loans